The role of the Feminist Foreign Policy in supporting women's rights movements in the South and North of the Mediterranean
Author: Samar Zughool The gender gap report published on 2018, estimates that we need around 61 years in western of Europe to overcome the gap caused by gender inequalities. We need around 153 years to overcome it in the middle-east and around 124 years to overcome it in Eastern Europe and central Asia. This is if the current tools and initiatives to close this gap are to be maintained (global gender gap report 2018). In some countries gender-based discrimination is visible and presented on a policy level. In other countries it is the glass ceiling that hinders women from active participation and development. We are also witnessing a reversed wave where proposals that are questioning women's autonomy on their bodies are presented (Human rights watch, 2018). In 2014, Sweden became the first country to officially announce the feminist foreign policy. The feminist foreign policy of Sweden was firstly initiated from top down approach. Yet, the development of it is based on accountability and inclusion. Its development is based on inclusive tools and channels. The policy is based on the "four Rs". Representation of women, Rights of girls and women and Resources for budgeting and gender mainstreaming. The fourth R goes for different Realities in reference to intersectionality (Government offices of Sweden, 2018). In one hand, intersectionality is highlighted by different researchers as an important aspect and a must to achieve the core values of feminism (Gourly, 2018). In the other hand, some of the critics doubted the feminist foreign policy of Sweden to be another form of imperialism and neo-colonialism (McCurdy and Sefton, 2019). This is why in this paper I analyse the tools used and amplified by the Swedish feminist foreign policy on an empirical level. This is by analysing it in relation to the needs and narratives from concrete women's rights movements in Italy, Spain, Tunisia and Jordan. Different researchers highlighted the importance for the EU to unify its foreign policies. Some referred to the feminist foreign policy as a potential tool to achieve this unification (Mona, 2017). Through a feminist qualitative research and inductive reasoning, I aim to come up with recommendations for EU foreign policies to take in depth actions toward gender inequalities as a global issue. This is by learning from the Swedish experience and by analysing it through inductive reasoning and feminist qualitative research.
The concept of women movements, women's rights movements and feminism in the southern and northern of the Mediterranean
Women movements are the movements that are led by women and its discourse is framed based on the gendered identity of women (McBride and G. Mazur, 2008). Women movements are not automatically feminist. Feminism challenges and combats patriarchy. Women's movements are not necessarily in support to women's rights nor to the feminist cause (Gouws, 2015). For example, women's movements who got mobilised against the ratification of the CEDAW agreement in Jordan are not pro women's rights nor feminist (Women of the Jordanian Islamic Action Front, 2010). While their counter movement who got mobilized to ratify the CEDAW agreement is a women's rights movements. Both movements are women movements. But one is pro-women's rights and the other is not (Zughool, 2018). Members in women's rights movements are not necessarily feminists. E.g. Some activists who were mobilised to gain women's rights in parity and political presentation in Tunisia are not in favour for equality in inheritance between genders because it is in contradiction to Sharia laws. The coalition for equality in inheritance in Tunisia is a feminist women's rights movement. Because it challenges patriarchy regardless of any cultural or religious consideration. In Jordan, in the movement for women's right to pass their nationality to their children there are activists who are mobilized to constitutionalize gender equality in theory and practice. Other members from the same movement are pro women's rights to pass the nationality to their children but not necessarily pro gender equality in all aspects of life (Zughool, 2018). The Swedish handbook for feminist foreign policy emphasizes that this policy declines any kind of discrimination against women. Even if this discrimination is justified by religious or cultural believes. It is important to increase the involvement of women's rights voices from the southern of the Mediterranean not only in the development of this policy, but also in conceptualizing and promoting the concept of intersectional feminism across the Mediterranean region. This approach can assist us to face and combat doubts referring to feminism as a western product or undermining the great concept of feminist foreign policy and comparing it to imperialism. Feminism is still perceived with doubts not only in the south of the Mediterranean but also in the North. Feminism in Europe is still under prejudices and stereotypes. People who are pro gender equality and justice do not identify themselves as feminists due to the misconceptions about it (Scharrff, 2019). In the south, anti-feminism is triggered by the postcolonial identity. It is feared to be a tool for imperialism and colonization (Zughool, 2018). Sweden, promoted gender main streaming and integrated it in all other sectors. This can be a further approach to be adapted on an EU level to address feminism as a humanitarian approach for further and mutual development. Sweden, supports its focal points to research and promote gender mainstreaming by channelling voices from the local society. This is by providing the channels for local women activists to deliver their voices and come up with relevant feminist themes that concern the local society (Government offices of Sweden, 2018). Women in the south and north shores of the Mediterranean addressed several overlapping issues of discrimination that women are facing (Talani and Giusti, 2017). In the following section I will select one narrative carried by women's movements in each country between 2014 and 2019. I will review the targeted theme in each country despite if there is a visible mobilisation for it or not.
Mobilisation for the right for sexual and reproductive health rights (SRHRs):
In 2014, Women in Spain took the streets to stand against the conservative proposal to restrict abortion (Sill, 2014). At first glance the movement in Spain went successfully from the emergence stage to coalescences. Later on, to decline by success. The success is when the new bill to restrict abortion was socially and political not accepted. In 2019, women's rights movements are back to the streets rising against the conservative far right proposals to restrict abortion and to ban feminists' groups (Madden, 2019). Therefore, it is an ongoing long battle for the stability of women's rights and the feminist cause to join the social mainstream. Women in Italy had the right for abortion since over 40 years. Yet, doctors have also the right to decline it. Women's activists in Italy addressed cases where women are declined to access abortion due to the right for doctors to be "Conscientious Objectors" (Donato and Fox, 2019). Mobilization to assure the right for abortion in practice, are still in the emergence stage of social movements. It is the stage where activists are less organized yet they are spreading and expressing discontent regarding the phenomena on an individual level (Macionis, 2001; Hopper, 1950). A further mobilisation is in the making of collective actions for either changing the social approach regarding abortion or to abolish the law that allows doctors to decline conducting abortion for their patients. The counter-narratives for the right for abortion is mainly sourced from socio-political segments in both countries. It considers religious and traditional believes as a justification to restrict women's rights for abortion. Sisterhood is Global Institute in Jordan (SIGI) published statistics that shows how many women are endangered yearly by illegal abortion surgeries.  Abortion and sexual relations out of the marriage bound is criminalized in Jordan. SIGI, sent the statistics to the government and to Dar al Iftaa which is the religious department responsible for Fqih. Fqih is the Islamic science to legislate laws. No concrete actions were taken. The mobilization did not go through the next stage to reach out for a collective action. Religion and Sharia laws are integrated in the Jordanian personal code. Women who are suspected to have sexual relations out of the marriage bound are endangered and stigmatised. They are in danger to become victims of the crimes of honour. The law that reduces the charges for the crimes of honour was modified. This modification will not necessarily lead to the abolishment of this phenomena from practice (Reuter, 2018; Zughool, 2018). In Tunisia, the right for abortion was assured since 1973. Yet, this does not necessarily mean that women are practicing this right in a voluntary manner. Women who have sexual relations out of the marriage bound are socially stigmatized. Women's rights activists referred to the rise of the religious extremist narratives as the source of this social shaming (Al Maky, 2018). An example of this is from Souad Abderrahim who was elected as the first female mayor representing al Nahda Islamic party. In an interview with the Arabic Saint Carlo radio she was asked about the rights of women who have children out of the marriage bound. She answered "They should not be protected by law" (Arfaoui and Moghadam, 2016).
Mobilisation to end gender-based violence against women, feminicide and sexual assaults:
In 2017, in Jordan, Tunisia and Lebanon, women's rights activists were mobilized to abolish "Marry your rapist law". The law was freeing the rapist from any chargers if he marries his victim. The movements were successful to abolish the law in 2017. Some has referred to this law as sourced from the Era of colonization and post-colonization. Because it was sourced from the French law. It is true that in postcolonial countries most constitutions were copy pasted from the colonizers through a "Lancaster model", yet it was also done in hybrid way that fits to the social reality of the country (Claxton, 2003; pp.529–533) Therefore, this argument excludes the risk that this law will not necessary be abolished as a practice from the mind-set of the society (Zughool, 2018). Female members in the Jordanian parliament played an important role to abolish this law. The Jordanian government increase women's quota as part of the top-down democratization after the Arab Spring International Institute for Democracy and electoral assistance, 2018). The regime assigned seven female ministers for the first time in the country (Abdullah II Ibn Al Hussein, King of the Hashemite Kingdom of Jordan, 2018). Yet, the same regime did put further restriction on cyber activism (Freedom house, 2018). Some researchers highlighted cyber activism as the main tool for women activism in the Arab word due to culture and tradition (Gheytanchi and N. Moghadam 2014). Women's rights activists in Jordan also referred to cyber activism as an important tool due to the social restrictions on women offline activism (Zughool, 2018). The voting process to abolish marry-your-rapist law in Tunisia was faster and, in more consensus, comparing to Jordan. Yet, women in Tunisia and in Jordan have addressed concerns to report on sexual assaults due the culture of shame. The culture of shame, refers to the stigma imposed on female victims and their families. It is sometimes directly linked to the Islamic narratives. Islamic scholars in both countries have addressed women dress code and Chasity in women as a tool to combat sexual assaults committed on them. These narratives are preached in mosques, social media networks and national TV programs. The interviews conducted about sexual assaults committed against women in Tunisia and in Jordan came up with similar narratives. Therefore, even after the abolishment of this law, women's movements in both countries have to make sure that this phenomenon is also abolished from practice. Women's movements in Tunisia have managed to process further in the life cycle of social movements. In Jordan, the conservative opposition hindered women movements to combat sexual harassment from reaching to collective actions (Zughool, 67 -69). It is also worth to mention that Tunisia is the pioneer in women's rights. It criminalized all type of violence against women and marital rape (EuroMed Rights, 2018). In Spain, women's rights movements are mobilized to stop femicide. The laws exist but it is not sufficient in practice. They are facing the risk of the rise of the right. E.g. the proposals and narratives by Vox far right party that threaten women's rights and gender equality (Valdis and Mora 2019). Therefore, women in Spain are mobilised to shift the socio-political narratives that risk women's life and to combat the rise of the far right that risks gender-equality. Journalism and media are strong tools that are used in Spain to eliminate violence against women by exposing it (France 24, 2018). In Italy, the situation is similar. The country ratified international laws and conventions to protect women from Violence. But the laws are weak in its application. Women activists emphasized that even if women report on violence the police in different cases still do not take restrictive actions and they do not implement the laws for protection (Pianigiani, 2018).
Responses from the feminist foreign policy and comparative conclusion between women movements in the south and north of the Mediterranean:
Sweden sat SRHRs and Freedom from physical, sexual and phycological violence as part of its main objectives. It promotes these rights through meetings, international conventions and international gatherings to encourage countries to ratify international conventions. Further, Sweden also invested on researches and statistics to proof how SRHRs is essential for the sustainable development. #She Decides conference was co-organized by the Swedish government and held in Brussels to address women's autonomy on their lives and sexual and reproductive health. The handbook of the feminist foreign policy indicates by examples how tools developed and implemented on a country level. Cultural promotion is one of the used tools. It happens in two ways. Either by promoting the Swedish experience or opening the door for local cultural debates. Leading by an example can be an effective tool to inspire the European countries in the Mediterranean. In the MENA region many issues regarding gender and social power are still not triggered on wider scale. Like legal guardianship for women to get married in Jordan and how it causes further discrimination on women. Or the criminalization of sexual affairs on a policy and implementation level. In conclusion women face similar and overlapping issues of discrimination in the Mediterranean region. These issues and common obstacles are associated to legislations and to glass ceiling. In the south, there are still some main policies that exist on a legislative level. In the north there are a continues danger of a reversed wave for policies and there is a lack of implementation of policies that guarantee women's rights.  There are still some main issues that are not tackled yet and not even addressed through collective actions in the south due to restrictive social factors. In the north similar factors are hindering women from reporting on sexual assaults and from practicing their rights for abortion.  In Italy and Spain, women's movements are not co-opted on a social level to address anti-feminism narratives. In Jordan it appeared as an issue. In Tunisia some women's rights activists are not feminists as they are not welling to challenge patriarchy regardless of cultural and religious justifications. In Jordan and Tunisia there are feminist women's rights movements countering women's movements who are co-opted by patriarchy.
Inclusive remarks and recommendations for an intersectional feminist foreign policy: 
We cannot face problems that we do not recognize that it exists. Resources shall be invested on alternative educational tools like the pedagogy of the oppressed. To generate themes and words where we can start realising and questioning the relation power in regard to gender.
International conventions shall be co-organized by representatives from the both shores of the Mediterranean.
Emphasize on the Mediterranean and invest further in building a common feminist concept build by women's rights activists from both shores.
We need to invest on building a Mediterranean feminist policy from bottom-up approach.
To invest further on women organizations combating gender-based violence as one of the main common struggles in the Mediterranean region.
Referring to restrictions on cyber activism as gender-based discrimination in the south of the Mediterranean. Raising political representation of women in middle east is not enough.
Support cross-sectoral cooperation to empower local female journalists to address gender-based violence on wider scale.
Open channels for activists from the south of the Mediterranean to address and speak out for women in the north and vis versa.
Open channels for feminists from the south region to distinguish the autonomy of their narratives from anti-feminism narratives in the same country.
Keep accountability and assert that feminist foreign policies are not aligned with embedded feminism, arm export or imperialism.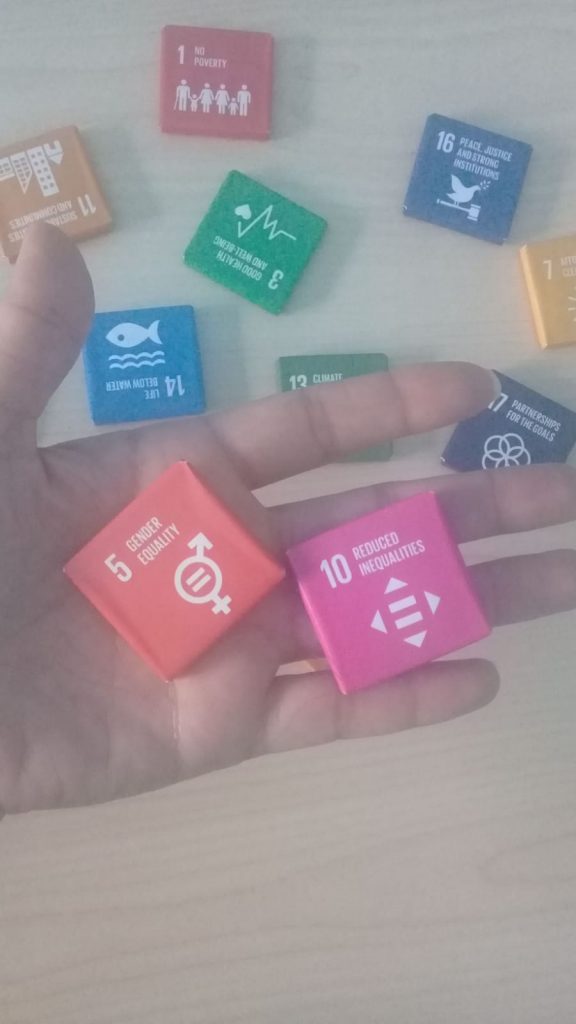 Samar Zughool is a researcher on feminist movements and public policy making in democratization. She holds a Master's degree with excellency from the Faculty of Social Sciences at the University of Ljubljana, and holds a Bachelor's degree in French language and literature from the University of Jordan. She is an intercultural learning and communication trainer and project coordinator.
If you wish to discuss this article or have any comments, email me to: samar.mediator@gmail.com.